It's National Tell a Joke Day, and laughter is on the menu! Nonsense poetry is fun and light, whimsical in tone, and sometimes has made-up words. I wrote a nonsense poem as an introduction to the immersion into daily words in Dictionary for a Better World, the poetry form the authors introduce on this day of laughter. You can read it here.
I'm connecting strongly with Charles Waters' moments when reading a poem has brought a smile to his face in those times that seem heavy. I, too, find that reading will lift me out of a fog and set the world back on its proper axis. When I need to hear the wisdom of the ages, I head through the doors off of my bedroom into my reading room. It's my go-to place when the world or my attitude needs a change, and my books stand ready, marked to meet my needs. I go to my reading room for laughter, for hope, for help. When I'd rather listen instead of reading, Dear Poetry is a podcast featuring 8 episodes, hosted by Luisa Beck, whose goal is to use poetry to answer world problems shared by letter writers (a spin-off of Dear Abby, only using poetry as the answer).
When I need book laughter, I pick up Rick Bragg, David Sedaris, Bill Bryson, or Trevor Noah. The most side-splitting laughter is no further away than Chapter 3 – Pray, Trevor, in Born a Crime (there is a Young Adult version that scales back the language). Hearing the author read it on Audible is the cherry on top. The expertise of shopping for hiking gear and taking a donut-loving character like Katz along the Appalachian Trail puts me back on the path to loving life's adventures with Bill Bryson, and sitting beside David Sedaris in his French class talking about global holiday traditions turns my tickle box upside-down. That scene in Travels with Charley by Steinbeck where he assures the park ranger that Charley will not raise the bears' dander and vice-versa, then turns around and comes back to apologize to the ranger only after driving a few miles and discovering the truth about Charley, paints such a picture of the humor of animals and our underestimation of them that I sometimes laugh to the point of tears.
What are your favorite go-to books or poems for laughter? Indeed, it is the best medicine of all. Please share your top picks in the Padlet below.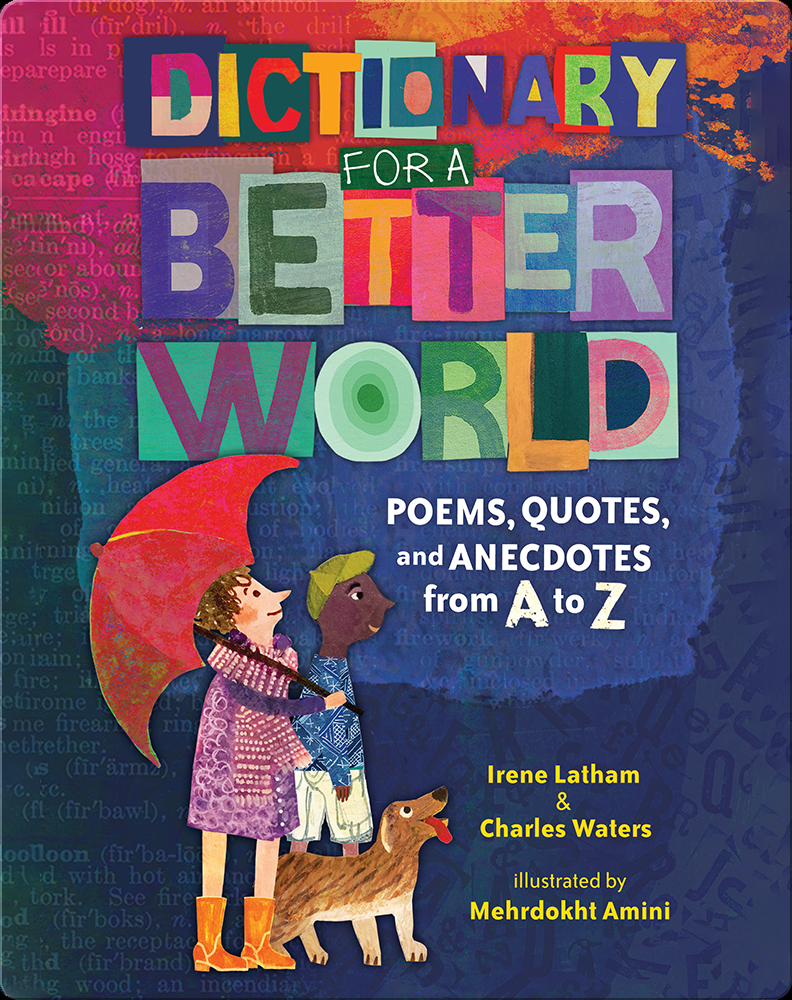 *During the months of August and September on days when I'm not participating in the Open Write at www.ethicalela.com, I will be writing in response to the pages of Dictionary for a Better World: Poems, Quotes, and Anecdotes from A to Z by Irene Latham and Charles Waters, illustrated by Mehrdokht Amini. The poems, poetic forms, narratives, quotes, and calls to action to make one small difference might be just the medicine my world – or the whole world – needs. I'll be inviting insights in the form of an immersion into a 10-minute-a-day book study (just long enough to read the page, reflect, and connect). If you don't have a copy of the book, you can order one here on Amazon. I invite you to join me in making August and September a time of deep personal book friendship. A few teachers will be following the blog and engaging in classroom readings and responses to the text. So come along! Let's turn the pages into intentionally crafting beautiful change together.