National Lemon Meringue Pie Day is a delicious attitude toward life's tough times. Tenacity is not for the soft-meringue of spirit. It's holding on, despite all challenges. It's our level of stick-to-it-ness – – our grip – – our ability to stay the course when the course seems dang near impossible.
In December 2021 when my father and brother came for a Christmas visit, Dad and I drove the short distance from my home to Warm Springs, Georgia to visit The Little White House and the pool where F. D. Roosevelt came to soak in the springs believed to hold healing properties for those with polio. I wrote a decima inspired by that visit that you can read here. Charles Waters and Irene Latham introduce this form on the Tenacity pages of Dictionary for a Better World.
After our tour of his home in Warm Springs, we stopped for lunch at The Bulloch House, a home-cooking restaurant in a historic building filled with pictures of the days that F D R visited the town. Southern cooking that comforts the soul is never as good as fried chicken, black-eyed peas, squash casserole, fried okra, and cornbread from The Bulloch House.
And then came dessert. The menu descriptions themselves are a certainty that diners will have dessert. I asked Dad what he wanted, and he didn't hesitate.
"We'll share a slice of Lemon Meringue Pie," he told our server.
As our forks cut into this perfect-blend-of-tangy-sweetness on a plate, meringue curls perfectly browned, I wondered why I'd never taken the time to learn from my grandmothers how to create such a work of food art that requires a brown paper bag in an oven. Our coffee steamed in swirls hovering above our cups, dissipating heavenward, and as the festive sounds of forks on plates, clinking of ice cubes in tea glasses, and table conversations filled the space, I thought about this man, my father, whose hardheaded stubbornness I'd inherited honestly, and regretted the times I'd been such a pill for my parents. My parents pushed strongly encouraged me to get my doctorate, just as Dad had done. Without his strong will of tenacity, grit, perseverance, dedication, and hardheaded stubbornness, I would never have made it through my degree program. My mother died of Parkinson's Disease in December 2015, ten months before I finished. I pushed ahead with a powerful pair of wings guiding my efforts, feeling her arms around my shoulders.
While others may disagree, I'm here to vow that all the lemons and learning of a doctoral program – and life itself – have far less to do with intelligence and far more to do with tenacity – holding on when every day brings tears, having all faith that there is a rainbow just up ahead, around the next bend.
So there we sat, eating lemon meringue pie in The Bulloch House, reflecting on life. It brings me to the Try It! section of today's word, at the bottom of page 89. A vision board of goals is a great idea for moving from Aha! to Action! in taking the steps to realize dreams. All it takes is the vision, the tenacity, and the plan.
Watch Charles Waters recite his poem for Tenacity here.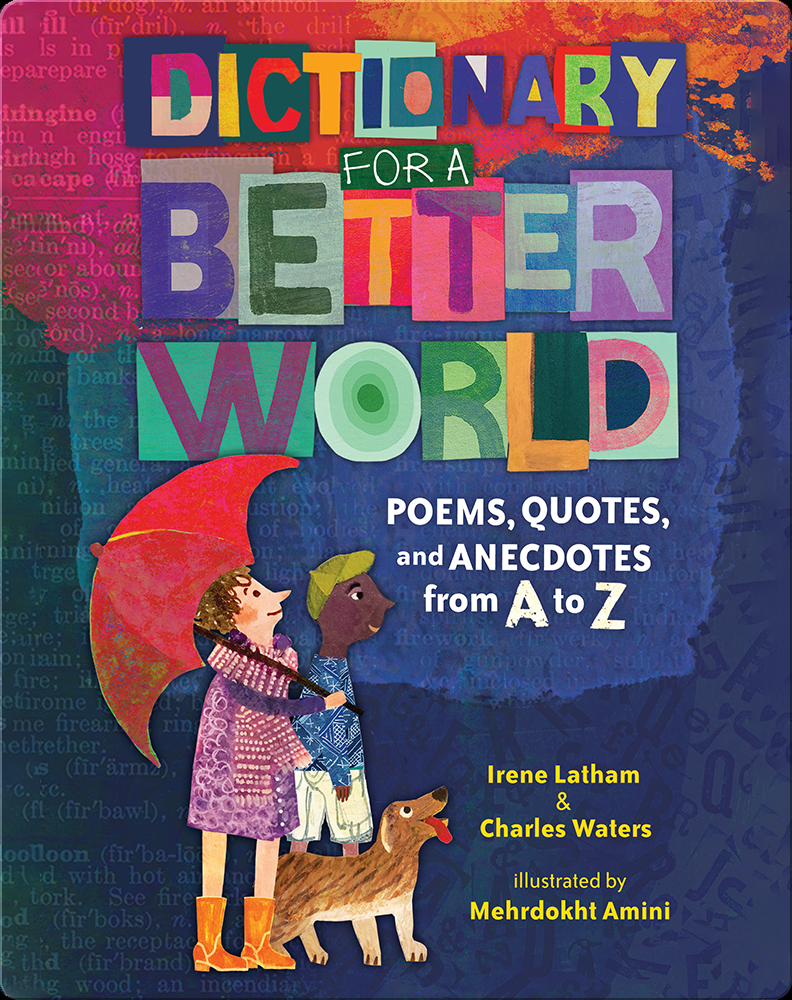 *During the months of August and September on days when I'm not participating in the Open Write at www.ethicalela.com, I will be writing in response to the pages of Dictionary for a Better World: Poems, Quotes, and Anecdotes from A to Z by Irene Latham and Charles Waters, illustrated by Mehrdokht Amini. The poems, poetic forms, narratives, quotes, and calls to action to make one small difference might be just the medicine my world – or the whole world – needs. I'll be inviting insights in the form of an immersion into a 10-minute-a-day book study (just long enough to read the page, reflect, and connect). If you don't have a copy of the book, you can order one here on Amazon. I invite you to join me in making August and September a time of deep personal book friendship. A few teachers will be following the blog and engaging in classroom readings and responses to the text. So come along! Let's turn the pages into intentionally crafting beautiful change together.