As I prepare to begin a word journey through Dictionary for a Better World: Poems, Quotes, and Anecdotes from A to Z by Irene Latham and Charles Waters, illustrated by Mehrdokht Amini tomorrow, I'm packing my suitcase of all the things I'll need along the way, including a list of the things for which I am grateful. The Gratitude List on p. 117 of the book inspires me to remember to have a thankful heart always, but particularly as I journey through these months ahead. A common saying is "a lot of what you see depends on what you're looking for," and I agree – – it's all about the readiness for change and commitment (as I wrote this last line, a redbird appeared on my feeder – a colorful, eye-catching nod from my mother in the Heavenly realm – for whom I'm always on the lookout).
My Gratitude Suitcase
A kaleidoscope, to remind me that every twist of perspective is beautiful. As Rainer Maria Rilke said in Letters to a Young Poet, "There is not more beauty here than elsewhere…..but there is much beauty here, because there is much beauty everywhere."
A library card, for tapping into all the books that have shaped me, and that allow me to connect to new writing like an elaborate social network of thoughts and ideas.
Traveling shoes – (okay, okay – – 3 pairs: well-broken-in Birkenstocks, hiking boots, and dress flats) to remind me that some days there'll be a climb, some days I'll have to burn the candle at both ends and work really hard, and some days there'll be peace and relaxation, but that the journey is best when there's a great blend of them all.
A camera, a Pilot Varsity fountain pen, a journal, and a laptop – to keep me writing and using the photographs and narratives to preserve the memories of the moments that matter so I don't forget.
A snapshot of my writing community – there are so many writers with whom I've connected over the past several years in various writing communities – the Open Write at http://www.ethicalela.com, Slice of Life and Two Writing Teachers, This Photo Wants to Be a Poem, and the Magic blog at http://www.sharingourstoriesmagic.com. We encourage and inspire each other, and we give each other wings (special thanks to Margaret Simon for reaching out to encourage me to provide a Padlet so that readers who participate can interact and share their own blogs, responses and resources). I love everyone in my village, and if you're reading this, you're one of my inspirational friends, now one of my travel buddies if you're on this reading journey with me.
Earbuds – to create the spaces of silence or white noise where I need to collect my thoughts and write.
Glasses – to see the good in everyone, everything, everywhere in the world.
An extra pair of underwear for the laughter and Kleenex for the tears – to remind me to feel emotion with all my heart, even if my bladder budges a bit with belly laughs. To feel joy and sorrow, to feel awe and wonder, to be moved to new places takes some heavy lifting of the heart and soul.
A tiny mirror – not only to check for any chia seeds from my breakfast shake stuck between my teeth, but also to remind myself that although I am only one small part of humankind, my actions can make a powerful difference in the lives of others and in the world. And to be ever mindful that when others look at me, I want them to see someone who cares.
Hands to reach out – because that's the whole point.
What are you packing in your Gratitude Suitcase?
Please feel free to use the Padlet to share your own blog posts, resources, and responses related to Dictionary for a Better World so that others can comment on your posts, connect, bloom, and grow together!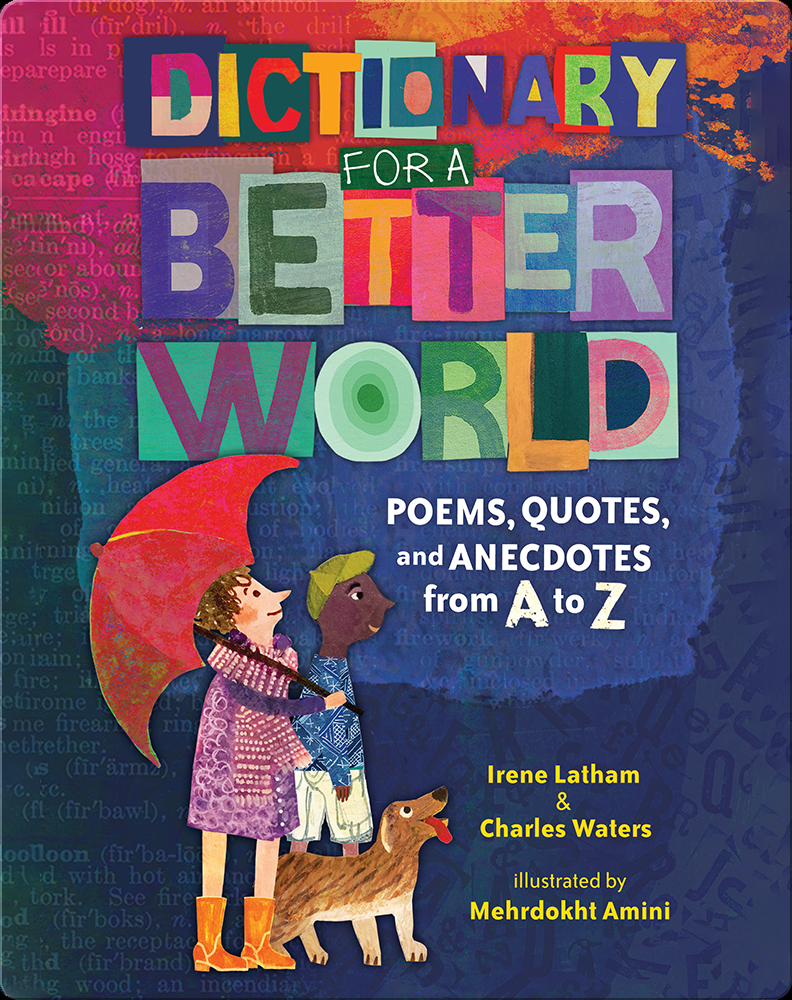 *During the months of August and September on days when I'm not participating in the Open Write at www.ethicalela.com, I will be writing in response to the pages of Dictionary for a Better World: Poems, Quotes, and Anecdotes from A to Z by Irene Latham and Charles Waters, illustrated by Mehrdokht Amini. The poems, poetic forms, narratives, quotes, and calls to action to make one small difference might be just the medicine my world – or the whole world – needs. I'll be inviting insights in the form of an immersion into a 10-minute-a-day book study (just long enough to read the page, reflect, and connect). If you don't have a copy of the book, you can order one here on Amazon. I invite you to join me in making August and September a time of deep personal book friendship. A few teachers will be following the blog and engaging in classroom readings and responses to the text. So come along! Let's turn the pages into intentionally crafting beautiful change together.