If you and I were to meet for lunch or coffee and go venturing out into a city to explore its history, cultural events, music, art, food, landscape, landmarks, architecture, and all the rest of the flavors that make a place worth tasting, like fresh-squeezed lemonade from a sugar-rimmed glass, we would probably agree that one of the first shops we'd want to visit along the way would be a book store. I can guess, my friend, that you're a reader – with an insatiable appetite for taking in the world through your heightened senses when you're in a new, exciting place.
Like me, you probably find your sensory awareness is at its peak when you travel. At home, you get around on autopilot, knowing your way but barely able to recall the finer details of the familiar paths you drive to work or to school. But when you travel, you probably find, as I do, that you notice everything, right down to the sizes and shapes of the sugar packets on the restaurant tables. You smell the diesel fumes of city buses when you're from the rural countryside, and you hear sirens and horns when you're used to hearing only windchimes and birds and crickets and the rustling of the tree leaves in the wind. You smell the food trucks wafting their mouth-watering aromas to tantalize the taste buds – and you study the landscapes like paintings, appreciating every horizon, every shade of blue sky, every mountain, every valley, every harbor or lake, taking it all in. You photograph what must seem like the most mundane things to the locals, but to you are your cherished timestamped travels, memory fingerprints that you don't want to forget. Sights that made you pause and appreciate the world.
And perhaps most of all, you watch and wonder about the lives of the people who live in this place that is not where you live. You imagine their schedules, their jobs, their favorite places to eat, and whether they even need to own a car to get to work. Do they buy their groceries in a once-a-week trip to the store, or do they shop the fresh markets on the way home and purchase each day what they will cook that evening, carrying it all home in one single paper sack, hugging it like a teddy bear the last block home? And do they buy fresh flowers for their tables? What music plays in their living rooms? What books line their shelves?
In that bookstore we decided to visit, you already know, even without thinking about it, which sections you'll visit in 1-2-3-4 order. We may separate to browse the store and meet back in 30 minutes, or you might go to the same spots in the same order I go: travel, pets and nature, science, and poetry. If we were really shopping together, I'd tell you about the book I just purchased for my grandchildren: The Atlas Obscura Explorer's Guide for the World's Most Adventurous Kid by Dylan Thuras and Rosemary Mosco (You can download a free teacher's guide here). I'd grab my phone and show you how I subscribe to their website because I find the world so fascinating that I want to see every corner of it, and the daily emails help satisfy my constant craving for travel. So I bought the children's version of the book for my grandchildren, hoping to stir in them a rich curiosity about the world, to develop a love for it and to appreciate the need we all have to get outside of our own bubbles and experience moments and slivers of living for brief times in different places. To inspire wonder. To see the world. To want to embrace the favorites of everywhere.
And then I would show you a few pictures of my grandchildren that bring joy to my heart.


My husband and I often see a beautiful sunset or some other lovely thing and text a random picture of our view to the other. The response is, most often, "thank you for not being selfish with the sunset," or "thank you for sharing the Batman Building (in Nashville)." I think it's a lot like the reasons we send our grandchildren postcards every time we go anywhere and sometimes even from right here at home~ to say I wish you were right here with me seeing this place, sharing this moment.
I want to give my grandchildren my same loves of reading and traveling, and writing it all down to remember all the whens. But how do you give someone the world? How do you create the awe-inspiring concept of a world that is enormously, majestically huge when you're little and your world is mostly your house and your yard with those black swallowtail caterpillars eating all the fennel along the fence, but then suddenly becomes a small world, after all, right about the time your feet stop growing?
I think you give someone the world the same way I'm told you eat an elephant.

One bite at a time.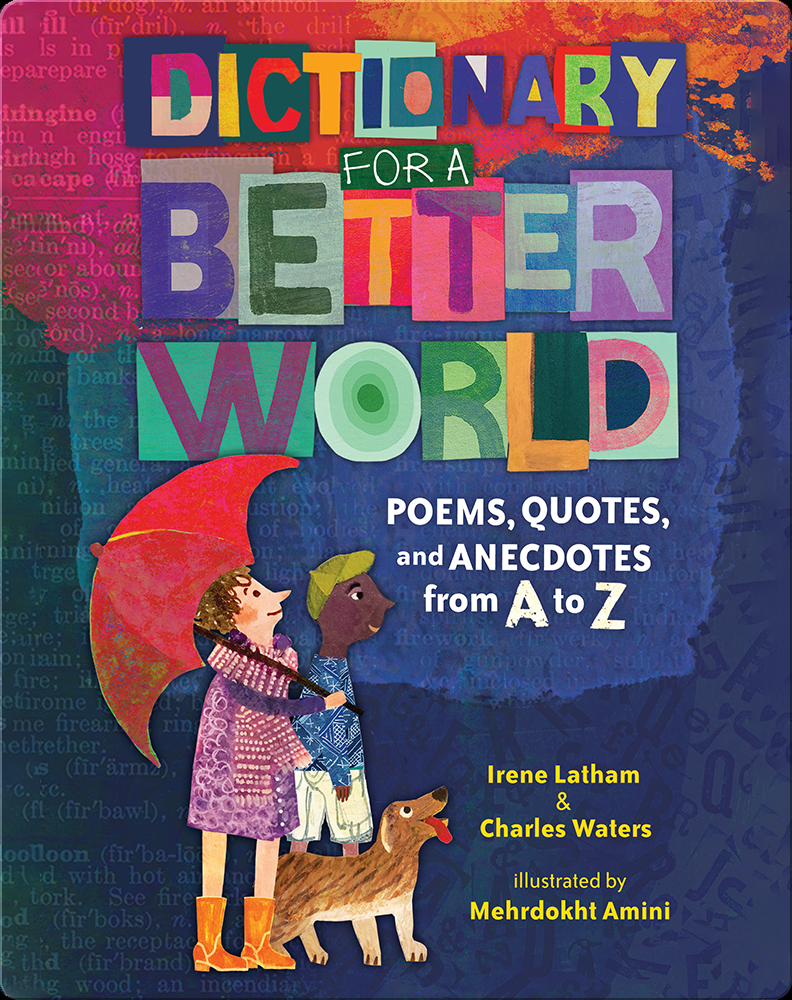 *During the months of August and September on days when I'm not participating in the Open Write at www.ethicalela.com, I will be writing in response to the pages of Dictionary for a Better World: Poems, Quotes, and Anecdotes from A to Z by Irene Latham and Charles Waters, illustrated by Mehrdokht Amini. The poems, poetic forms, narratives, quotes, and calls to action to make one small difference might be just the medicine my world – or the whole world – needs. I'll be inviting insights in the form of an immersion into a 10-minute-a-day book study (just long enough to read the page, reflect, and connect). If you don't have a copy of the book, you can order one here on Amazon. I invite you to join me in making August and September a time of deep personal book friendship. A few teachers will be following the blog and engaging in classroom readings and responses to the text. So come along! Let's turn the pages into intentionally crafting beautiful change together.