As I prepare to dive into the poetic forms of Dictionary for a Better World: Poems, Quotes, and Anecdotes from A to Z* by Irene Latham and Charles Waters, illustrated by Mehrdokht Amini, I think back on the anxiety I have felt at times across years of writing poetry and hosting poetry prompts on Open Write days at http://www.ethicalela.com. The writers in our group have been guided into offering positive and encouraging feedback so that we nurture writing spirits throughout our times of writing together. We share what resonated with us, the lines that spoke to us, how we connected, and the observations we made about the way the poems were written. Even though we know that others will offer positive remarks, there are times that we all feel a sense of reluctance as we begin writing, even though writing is a passion for many of us.
As a former runner, I often dreaded the running itself – – it took a lot of self-discipline to make myself run some days. But each time I finished, the endorphins prompted my next run. Crossing the finish line of a 5K or 10K brought about such a feeling of success and personal accomplishment that I'd often have my next race scheduled by the end of that day's race. A recurring knee injury keeps me from running these days, and I miss the celebration and festivities I felt at those running events.
I think writing is a lot like that. Once writing fever takes hold, there's no turning back – even though it takes self-discipline and effort to feel a sense of accomplishment and success when I write a poem, essay, or other writing task. Writing in a group with other writers and being part of a reading audience, I grow by allowing the texts of others to become mentor texts. I'm inspired to try certain techniques or styles in my own writing, always acknowledging those who share their original ideas.
But the important thing is to write. As I prepare to respond to the words and pages of Dictionary for a Better World, I remind myself : not all of my responses have to be perfectly polished like a shiny apple. Good writers have taught me that sometimes I need to give myself ten or fifteen minutes and see what I can accomplish in that amount of time as a quick write. The daily habits of reading and writing build reflective writers. Reflective readers and writers build a better world!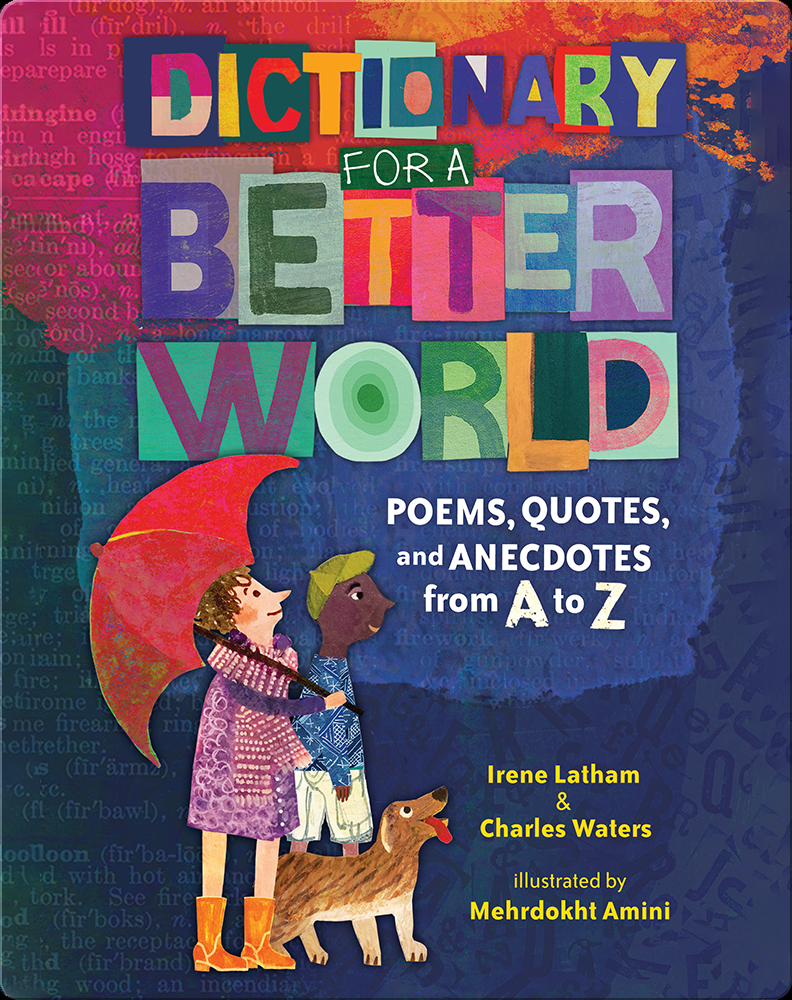 *During the months of August and September on days when I'm not participating in the Open Write at www.ethicalela.com, I will be writing in response to the pages of Dictionary for a Better World: Poems, Quotes, and Anecdotes from A to Z by Irene Latham and Charles Waters, illustrated by Mehrdokht Amini. The poems, poetic forms, narratives, quotes, and calls to action to make one small difference might be just the medicine my world or the whole world needs. I'll be inviting insights in the form of an immersion into a 10-minute-a-day book study (just long enough to read the page, reflect, and connect). If you don't have a copy of the book, you can order one here on Amazon. I invite you to join me in making August and September a time of deep personal book friendship. A few teachers will be following the blog and engaging in classroom readings and responses to the text. So come along! Let's turn the pages into intentionally crafting beautiful change together.