The goal of National Friendship Day was originally to mail a card to a friend. Just this week, I received a card from a friend who is traveling through Iceland right now, and it makes me smile when I think of the inspiration and encouragement she brings to my life. I can't help thinking of all the hate at the root of evil that would shrivel up and die off if friendship and kindness replaced all the negative energies that seem to hang heavier than ever before in the thick air of our world today. On National Friendship Day, perhaps a smile or holding the door for a stranger or paying it forward at Starbucks might take the place of all the cards I didn't mail my friends today.
In Dictionary for a Better World, I find today's page the most unique of all the pages in the book. It's the only page that features a negative word (but it does it as if the word is now dead and in its grave, hence the epitaph). If you're participating in the word-a-day journey and take a page-walk through the book, stopping at pages 44 and 45, you will notice that in this entire book that looks like each color from the mega box of Crayola crayons was used so vibrantly, this page is only black and white, like two sides of a fierce argument, with a perfect scribbling capturing the intense rage of hatred that is reminiscent of how I feel every time I read Elie Wiesel's Night.
What I love most about today's message on the page is that readers are encouraged to consider the truth of their feelings instead of using hate as the convenient word that it has become for us. Irene's story encourages us to look deeper into the negative feelings we have about situations and whether it may be disappointment or anger we are feeling rather than hatred.
The quote today by George Washington Carver drives straight to the heart: "Fear of something is at the root of hate for others, and hate within will eventually destroy the hater." It got me thinking: if hate is its own cancer of the soul and I could cure hate starting with one other word in the book, which word would I choose, and why? Love certainly comes to mind, and so does forgiveness. Empathy and listening and dialogue would work wonders on eradicating hate, too. I thought about each word as I considered what would most heal the heart of a hater. I believe if I could create a nationwide emphasis on eradicating hate, it would all begin with kindness, because if each person really focused on doing something kind with others foremost in mind, I believe we would see even the most bitter, hate-soaked hearts begin to feel the stirring emotions of mattering enough to someone who took time to make a difference.
I keep a stack of stamped, blank postcards ready to be mailed, so I'm wondering how friends might react if I send cards next week that say:
Hi, friend! I was busy on National Friendship Day last week at Starbucks, paying it forward in your honor, and that's why your postcard is running a little late. Tag. Your turn. Go do something to stop the hate, and light up another heart with kindness. Love, Kim
Which word would you choose to eradicate hate, and why? What are other simple ways to make a difference – (like leaving a basket of soap pods at the laundromat). Please share ideas in the Padlet below by scrolling across to today's date and posting your response.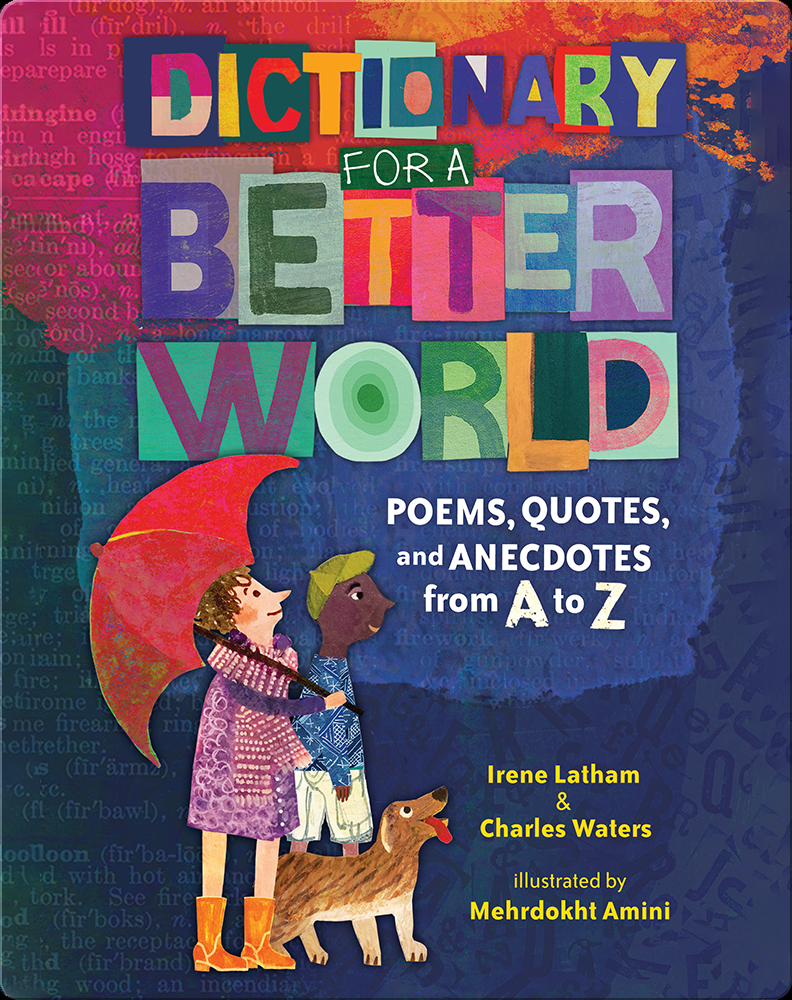 *During the months of August and September on days when I'm not participating in the Open Write at www.ethicalela.com, I will be writing in response to the pages of Dictionary for a Better World: Poems, Quotes, and Anecdotes from A to Z by Irene Latham and Charles Waters, illustrated by Mehrdokht Amini. The poems, poetic forms, narratives, quotes, and calls to action to make one small difference might be just the medicine my world – or the whole world – needs. I'll be inviting insights in the form of an immersion into a 10-minute-a-day book study (just long enough to read the page, reflect, and connect). If you don't have a copy of the book, you can order one here on Amazon. I invite you to join me in making August and September a time of deep personal book friendship. A few teachers will be following the blog and engaging in classroom readings and responses to the text. So come along! Let's turn the pages into intentionally crafting beautiful change together.